Jean-Philippe Mateta's equaliser cancelled out a controversial penalty as Palace secured a well-earned draw in their final game of pre-season tour - check out all the reaction and the drama as it happened below.
This page will update - refresh at regular intervals for the latest action.
Summary so far:
David Ozoh starts for the first time aged just 17-years-old.
A fiesty first period sees several players in the book from both sides.
Bamford goes close with a fizzing effort deflected wide
HT: Palace 0-0 Leeds
Rodrigo converts from the spot after a controversial penalty against Ward.
Mateta equalises, tapping in from three yards from Ayew's cross.
Mitchell's header can't hit the target from six-yards-out.
Adaramola, Street and Phillips combine on the counter, but it's scrambled away.
FT: Palace 1-1 Leeds
Following the pyrotechnic show that greeted the players' arrival onto the field, the first-half was less of spectacle and was more characterised by the ferocious nature of the challenges – with several names from either side ending up in the referee's book.
The closest either side came to scoring was Patrick Bamford's snapshot from the edge of the area, taking a slight nick before flying narrowly past the post.
After the break the game sprang into life, however, and Palace found themselves behind in controversial circumstances. Joel Ward came across to clear a nothing ball into the area, but the referees instantly pointed to the spot.
The Palace players were incandescent, and pointed repeatedly to the big screen replays of the incident. The referee was unmoved, and Rodrigo stepped up to send Guaita the wrong way from 12-yards.
But the Eagles had always looked dangerous on the break, and it was through a rapid counter attack that they hit back. Jordan Ayew found space behind the Leeds defence and raced forwards, displaying real pace to leave Kristienssen in his wake.
Galloping alongside him was Jean-Philippe Mateta, who had the easy task of slotting into an empty net.
Both sides had chances to find a second, with Malcolm Ebiowei once again impressing going forwards, and Joe Gelhardt forcing Guaita into a smart save.
But it was Palace who should have won it – first through Mitchell who nodded down into the ground from six-yards-out at the far post and then Killian Phillips on another lightening quick counter attack.
In the end it was all square, but a positive end to a huge pre-season tour nonetheless.
Palace: Guaita (GK), Clyne, Andersen, Ward, Mitchell, Milivojevic, Rak-Sakyi, Ozoh (Ebiowei, 65), Edouard (Phillips¸80), Mateta (Street, 84), Ayew (Adaramola, 84).
Subs: Matthews, Rodney, Quick, O'Brien, Siddik, M. Boateng, Raymond, Banks, Akinwale, Ola-Adebomi.
Check out all the reaction below.
14:15
A positive draw for Palace and that's it from down under.
We'll leave you with words from the boss…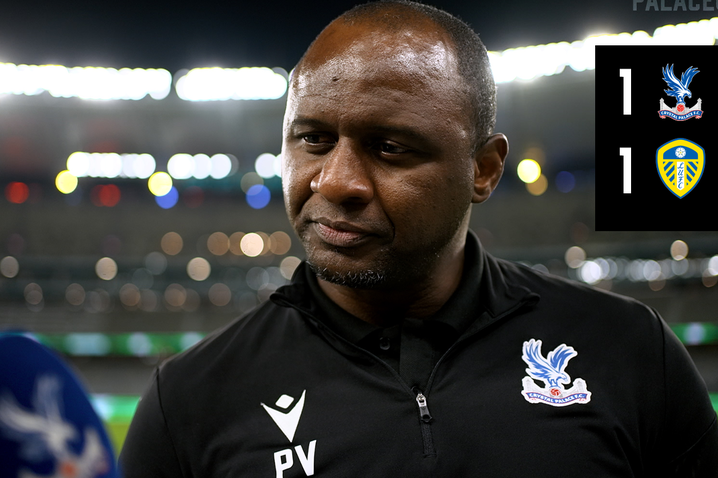 14:00
David Ozoh spoke to Palace TV after the game - having started in Australia at just 17-years-old.
"It's a dream come true," he told Palace TV after the game. "I think I did alright – the gaffer said I did well so I'm pleased with my performance.
"It's good having the physical ability – thanks to my Dad! It's a great thing to have, and obviously to be technical as well.
"It's just been great. Playing in front of 60,000 or 70,000 fans, it's just about being brave and improving."
After a first pre-season tour with the first-team, Ozoh hopes he can take new experiences into his development as a player.
"It's been a great experience," he said. "I never thought I would ever go to Singapore and Australia in my life, so I'm just happy I've done it.
"We all came and showed everyone that we have the ability to compete in the first-team squad. Now it's up to the gaffer.
"I've taken a lot from [the first-team players] – it's about bringing that back and playing."
13:30
Thank you so much for your support on Tour 2022, Eagles.
13:10
And what a tour it has been...
Full-time
90+4 mins
...no - the referee blows for full-time as the corner is cleared.
A positive showing to mark the final fixture of Tour 2022.
Chance!
90+2 mins
The youngsters almost win it!
Street, Adaramola and Phillips combine to carve through the Leeds defence, but in the end the final ball is agonisingly short it's forced behind for a corner.
Is there one final chance to win it...?
Chance!
89 mins
Was that the moment to win it?
The chance is created by Ebiowei who jinks left and right to find the angle for the cross, and delivers a good one towards the far post.
The man on the spot is Tyrick Mitchell, who heads down into the ground and over the crossbar.
We'll have three added minutes.
87 mins
Adaramola is on at left-wing for the final five minutes, meaning that Palace front three are two 18-year-olds and 20-year-old.
Substitution
84 mins
Another two changes for Palace, and more valuable minutes for Academy youngsters.
On: Rob Street and Tayo Adarmamola.
Off: Jordan Ayew and Jean-Philippe Mateta.
82 mins
Not far away from a second for Leeds. It's Gelhardt cutting in on his left, and unleashing a dipping drive that Guaita has to push behind.
The corner comes to nothing.
Substitution
80 mins
Off comes Odsonne Edouard, and Killian Phillips replaces him.
76 mins
Stop it, Tyrick - all the defenders are at it.
Mitchell flicks backwards over the head of the approaching attacker and moves away.
74 mins
Joachim Andersen, that is lovely.
The Dane goes all 'Franz Beckenbauer', sliding in to hook the ball away before producing a Cruyff turn to move away from his marker, winning a free-kick in the process.
Moments later, Edouard creates space at the edge of the box but shoots into a crowd of bodies when Malcolm Ebiowei was unmarked.
70 mins
Palace have the momentum after that goal, and Ebiowei looks a real threat.
GOAL!!!!
GOAL! Palace 1-1 Leeds (Mateta)
67 mins
Palace are level!
It's a storming break forwards as Jordan Ayew races in behind, showing real pace to leave Kristienssen for dead.
At just the right time, he square to Mateta, who is left with the simple task of rolling home.
66 mins
Rak-Sakyi is dispossessed and looks for the free-kick, but to no avail. Leeds break forwards and Guaita is spotted off his line, but the 'keeper palms away the attempt at the lob.
Substitution
65 mins
First change for Palace, and 17-year-old David Ozoh's race is run. What a night for him.
Malcolm Ebiowei comes on to replace him.
64 mins
Joel Ward looking for a second in as many games? He rises highest to meet a lofted delivery towards the far post, but his looping header falls wide.
Yellow card
Sam Greenwood is the latest to get his name in the referee's book.
Substitution
61 mins
Darko Gyabi replaces Marc Roca
60 mins
This is a fiesty game. More grappling between Milivojevic and Gelhardt, before Mitchell is penalised.
GOAL! Palace 0-1 Leeds (Rodrigo)
55 mins
Rodrigo sends Guaita the wrong way, and Leeds break the deadlock.
Penalty!
53 mins
Leeds have a spot-kick, and boy is this controversial.
Joel Ward is adjudged to have pushed Summerville, but the Palace players are up in arms - they point to the big screen replays which show very little contact ocurred.
The referee is unmoved by the replays or the boos from the crowd - and Ward and Milivojevic are shown yellow cards.
50 mins
Chance for Palace, and it's all of Edouard's making.
The Frenchman shows strength and guile to dance down the wing, shrugging off the challenges of the defenders. He tries in vain to pick out Ayew, but Mateta rescues the loose ball and lays off for Rak-Sakyi; the shot is blocked away.
Ozoh impressing
How good has this guy been?
48 mins
Jes Rak-Sakyi is drifting wide and getting into dangerous positions behind the Leeds line. He races forwards again but the defender gets back.
Kick-off
46 mins
We're underway in the second-half...
Changes for Leeds:
On: Daniel James, Joe Gelhardt, Leo Fuhr Hjelde, Crysencio Summerville, Sam Greenwood.
Off: Robin Koch, Pascal Struijk, Breden Aaronson, Tyler Adams, Patrick Bamford.
12:05
Check out the best shots from the first-half...
Half-time
45+2 mins
The referee blows for half-time and it's all square. A first-half of few chances, with both sides looking at their most effective on the break.
Just 45 minutes remaining in Palace's pre-season tour – can they leave Australia on a high?
45 mins
Chance for Leeds and potentially the closest they have come to an opener.
Patrick Bamford finds space in the middle and unleashes an effort from just oustide the area, but it flies narrowly wide - via a deflection.
Guaita gets a good hand on the subsequent corner to punch clear.
42 mins
Now a chance for Leeds - and they've won two corners in quick succession.
Both are cleared.
40 mins
...it's cleared.
Palace break forwards and there is a nice interchange between Ayew and Rak-Sakyi, but a cheap foul brings the attack to a halt.
Booking
38 mins
We'll be lucky to end tonight with 22 men on the pitch at this rate.
Tyrick Mitchell is the latest to recieve a yellow card, for tugging back a player in white on the break.
Free-kick in a dangerous position for Leeds...
37 mins
Leeds make good inroads into the Palace half, and Rodrigo gallops into the area, but he pulls his shot across goal and it's nowhere near troubling Vicente Guaita.
Substitution
33 mins
Leeds make a second change, with Adam Forshaw withdrawn and Marc Roca replacing him.
Booking
32 mins
The referee might want reminding that this is a pre-season game.
Third booking in the opening half-an-hour and it's a contentious one, as Andersen makes up for a heavy touch with what he believes to be a well timed tackle - but the whistle goes.
29 mins
Palace are seeing more of the ball now, and Joachim Andersen is beginning to stroke it around the back with confidence. Leeds look the more dangerous on the counter.
Booking
26 mins
Ooh, that's a nasty one.
Diego Llorente is straight in the book after scything down Jean-Philippe Mateta - there's no argument about that one.
Eagles
Tonight's lineup.
21 mins
It looks as if Leeds are in from a long ball forwards, but Nathaniel Clyne comes racing across to hoik it out of play - and just in the nick of time.
Booking
16 mins
David Ozoh goes into the referees book for a high challenge.
Snapshot
The Optus Stadium put on a show...
Substitution
12 mins
Lengthy delay and now a change for Leeds - and it will concern Jesse Marsch. New signing Luis Sinesterra comes off limping.
8 mins
Neither side commanding on the ball so far, but Palace look good on the break.
The ball is worked to Jordan Ayew out wide, who clips a delivery towards the far post. Odsonne Edouard is waiting and tries an acrobatic bicycle kick, but can't make proper contact.
5 mins
First chance of the game for Leeds, as Palace play themselves into a bit of bother at the back.
Leeds work it to Patrick Bamford who rolls the ball narrowly wide, but the flag was up.
2 mins
First action for Tyrick Mitchell, and he shows just why he's such a tough defender to beat one-on-one.
As Leeds advance down the wing, he marshalls his man towards the corner and robs him of possession, winning a free-kick in the process.
Kick-off
1 min
We're underway!
11:00
Here we go - the players are in the tunnel.
Pyrotechnics and fireworks fill the air and the noise ramps up a level.
Palace emerge in their brand new black third kit, Leeds are in all white.
10:55
Not long to go now, Palace fans.
Remember, tune in to Palace TV+ to watch all the action LIVE.
10:40
Palace are in the house.
10:20
Patrick Vieira has faced Leeds United plenty of times as both a player and a manager, but he made clear before the game that this could be a transformed team under new management.
"[It] will be a different Leeds," he said at his press conference. "The manager arrived at the end of the season so to put his philosophy and ideas in place [so quickly], that will be really difficult.
"I know Jesse [Marsch] quite well from our time in the US. I know this will be a team that will work hard and play on the front foot.
"I think they will have a different season from last year."
Team news
10:05
The teams are out!
Here is Patrick Vieira's XI to take on Leeds in Perth…
Ozoh replaces Killian Phillips in midfield, starting alongside Jes Rak-Sakyi and captain Luka Milivojevic.
Jordan Ayew and Jean-Philippe Mateta start in attack, where Odsonne Edouard replaces Malcolm Ebiowei, while there is an unchanged back four. Vicente Guaita returns in goal.
Palace: Guaita (GK), Clyne, Andersen, Ward, Mitchell, Milivojevic, Rak-Sakyi, Ozoh, Edouard, Mateta, Ayew.
Subs: Matthews, Rodney, Quick, O'Brien, Siddik, Adaramola, M. Boateng, Raymond, Phillips, Banks, Ebiowei, Street, Akinwale, Ola-Adebomi.
Tour Daily - Banks, O'Brien, Vieira and more...
9:55
Make sure to get your pre-match fill with this morning's episode of 'Tour Daily' on the Palace Podcast.
We speak to: Scott Banks on free-kicks, making progress and working with Brighty; Jake O'Brien on tour so far, learning on loan and his mother's Sunday roasts; Patrick Vieira on Leeds; plus words from JP Mateta, Malcolm Ebiowei, Killian Phillips and more...
You can listen to the latest episode below, or by clicking HERE.
9:40
The stage is set.
The Optus Stadium was officially opened less than five years ago, and what a sight it is.
09:20
Patrick Vieira spoke ahead of today's clash at his pre-match press conference yesterday, where he explained that the new experiences provided by touring Singapore and Australia will allow him to build on the strong foundations already set at the club.
"Coming here was something that we wanted to do as a football club," he said at his pre-match press conference. "We wanted as well to give these kinds of experiences to our players.
"Some of our young players have never been outside of London or England, so to travel and to play those kinds of games against those kinds of teams is of value for our football club.
"The tour has been good so far. When you play [Manchester] United and Liverpool in front of 80,000 and you look at the intensity of the game, those two games so far have helped us grow as a team.
"Obviously we are in a better place now physically, and a better place tactically. Those games allowed us to adjust and to see where we are as a team."
You can read Vieira's thoughts in detail by clicking HERE.
Welcome to Perth
09:00
Two games down, one to go.
It's matchday for the final time on pre-season tour as Palace take on Leeds United at the Optus Stadium in Perth, where up to 65,000 people could cram into this giant stadium to see the Premier League arrive in Western Australia.
The past two weeks have seen the Eagles play in front of huge crowds against Liverpool in Singapore and Manchester United in Melbourne, so join us once more for all the action from down under this morning.