Bruce Dyer: The £1m transfer, ups and downs with Palace, and life after football
During the international break, former Palace striker Bruce Dyer returned to the club to speak Crystal Palace's Under-18s, discussing with them his unique footballing journey.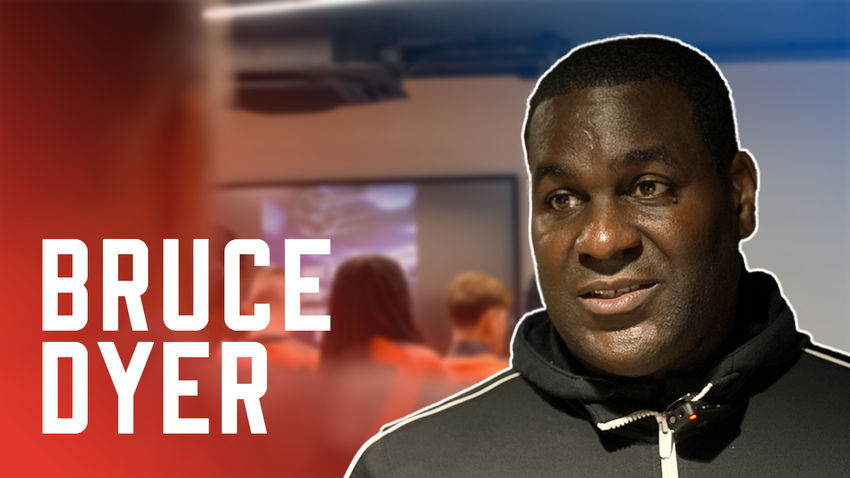 In March 1994, at 18-years-old, Dyer became the first-ever teenager in British football to be sold for over £1 million, moving from Watford. A potent forward, he managed to score 44 goals in 164 games for the Eagles across all competitions.
He helped the club secure two promotions from the First Division back up to the Premier League and finished as top scorer two seasons in a row.
Returning to the club for the first time in almost 20 years, Dyer informed the U18s about all the trials and tribulations that come along the path of becoming a professional footballer, and revealed the direction of his life after football.
He said: "This is the first time I've been to the new training ground and the Academy. I walked into the Academy and I thought, 'oh my gosh' – this is a different world.
"One of the things I said to the U18s was that they are so blessed. They've got so much in place that can help them really become the best players possible. Coming back and seeing the facilities, the staff, the manpower, the buildings, the rooms, it's unbelievable.
"Man, we used to train at Mitcham. Mitcham! One big pitch, a couple of dressing rooms, one physio or two physios and that was it. The change is unbelievable. They've done fantastic. It's great to see the progression of the club. It's been a real delight and a pleasure to see."
Indeed, since achieving Category 1 status three seasons ago, the Academy has come on leaps and bounds as the brand new facility over the road in Copers Cope has taken shape.
This setup provides a huge opportunity for the young Eagles across all the age groups, especially the U18s and U21s, at the chance of becoming professionals. Dyer highlighted some key aspects of his career as a professional footballer that would help them, along with the facilities in place.
"There were some key things that have been instrumental in my career, such as teamwork, role models, perseverance, hard work, avoiding bad company.
"They're things that I've had to learn. I've had to learn those really fundamental things in my football career.
"I was saying to the younger players: knowledge is a really powerful thing. It was good to be able to just give them some information about some of my experiences, hoping that it will help some of them in their journey in their football. I was telling them about my journey, my story and some principles and things that I've had to learn.
"What was really important to me was that there's a Bible verse that I use. I know not everybody has faith, but there's a Bible verse that says: 'bad company corrupts good habits.' I was speaking about the importance of choosing friends wisely and choosing the right environments wisely, which is fundamental for me personally."
"I'm a pastor of a church, Love Life UK Church, now. I've got my own business where I do sports coaching. Faith has had a really important role in my life.
"One of the biggest challenges with footballers is life after football, but by the grace of God and life after football, my journey has been really good. I really do believe that my faith in Jesus has been important in that."
Dyer credits the good company he was alongside at Palace - the likes of Gareth Southgate, Leon McKenzie and Dougie Freedman - in helping shape his career as a youngster.
"At the beginning, it was difficult but I'd like to think I contributed, won the fans over and I had a really, really good career at Palace.
"Gareth Southgate was a really good captain - one of the things I spoke about today was the importance of having good role models and Gareth was a good role model to me, he was a good leader on the pitch and off it.
"Younger players like Leon McKenzie, who is still my really good friend to this day... Clinton Morrison used to do my boots! These boys were good company.
"There's been Dougie Freedman too, my strike partner, and it was Dougie that invited me in to talk to the lads today. It's been good to see the progression of the club and still have really good memories of people that I played with.
"My experience with these guys at Palace was: get to the Premier League, then they get relegated. Get to the Premier League, and get relegated! To see now that it's an established Premier League club has been really, really good.
"The training ground, the way the club has transformed, it's been good. I like to see people and businesses and things develop, and to see the development has been really special."