Roy Hodgson has been speaking to the media ahead of Palace's trip to Burnley on Saturday, 4th November (15:00 GMT) – check out the best bits from the manager's press conference this afternoon.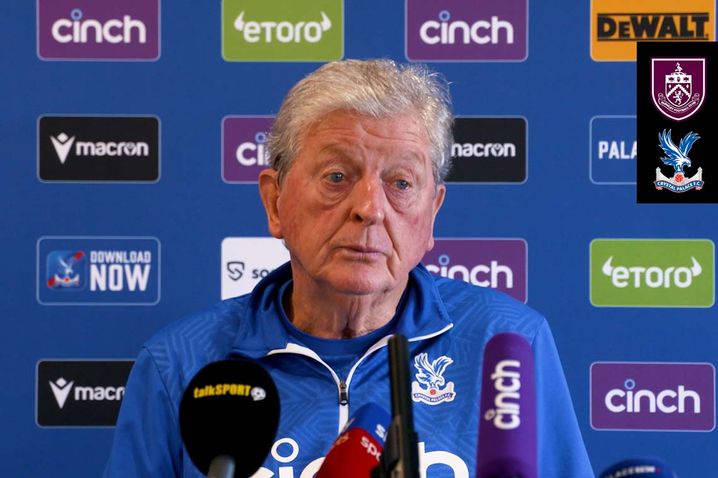 On Vincent Kompany and Burnley…
"You're absolutely right, it's young vs old, I can't get away from that. But I honestly don't believe in that. I don't know that being young or being old brings any particular advantages with it.
"I know that people will relate to experience, perhaps, but he seems like a pretty experienced man to me with all the incredible success he's had over the years, not only with his club sides, but with Belgium, so he brings plenty to his team, there's no doubt about that.
"Every team's been well-coached, every team's well-organised, every team's physically fit. So basically it's coming down much more to what players you've been lucky enough to work with and I mean, to be fair to him, they've made some investment, they've brought some players in.
"But it's never going to be easy for any club like Burnley or Crystal Palace or any others you can mention to really deal with the Premier League at the top, top level because their resources are so much greater than the rest of the league.
"I haven't seen that much of them [Burnley], but I've seen one or two matches. I saw their opening game against Manchester City and they played very well, Burnley. They lost, but Manchester City were pegged back.
"I remember watching them play against Nottingham Forest where I thought arguably they could have quite easily won that game. So they're doing like the rest of us, trying to make as good a fist as they can in the matches, and we expect it to be a very tough game."
On his young players…
"It was wrong of me in the disappointment, I suppose, of a game. I was rather hoping that even at 2-0 down, we could mount some sort of recovery. We didn't, not until the last few minutes.
"I think that sometimes in a press conference directly after the game, one is tempted to say things that you certainly shouldn't say and really don't mean.
"We have great faith in all of our young players. We think that they are going to be extremely good and they're making very good progress. I did make that point.
"I think it's a bit unfair to expect more of them as I'm suggesting I did expect on that evening. That's very unfair for me and wrong of me and I've actually spoken to the three of them to explain that and apologise for actually doing so.
"But the bottom line is that without Ebere Eze and without one or two other senior players in the department, the midfield and the attack, we are reliant upon asking 19-year-olds. And don't forget in the case of França and David Ozoh in particular, they've hardly played any senior football.
"He had a few games in Brazil before he came to Palace, Matheus [França], but then he's only played half a game against Monaco, so to suggest he's going to go on against Tottenham and change the game... I mean, I didn't expect that, and I don't think anyone could expect it.
"We are happy with them. We're happy with their development. They're getting better and stronger all the time. And of course, maybe the next time they get their chance in the team, it would be perhaps in a slightly stronger team and it might not be played against a Tottenham Hotspur who are 2-0 up and pretty much in control of the game at that point.
"The fact then that they [the press] have been able to use a quotation from me which suggests I'm blaming the young players for that... that's very tough on them, but I accept the responsibility. I said it, I shouldn't have said it. I've told the players that, but it certainly isn't something that I believe in.
"The young players we've got are good ones, and they will become very good ones. And they'll get more and more help now if they get into the team. Because with Ebere Eze and Olise coming back, I think we'll be a stronger attacking team anyway."
On upcoming fixtures…
"The fact is that we've gone to Newcastle – we've just seen them do very, very well last night at Old Trafford – and then we're playing Tottenham Hotspur, who came here basically unbeaten and top of the league. They're tough fixtures.
"The teams we're playing now are going to be teams that are going to be fighting like us to get as far away from the relegation zone as possible. So in that respect, we're playing teams who are very much in the same... 'dilemma' is the wrong word, but in the same ballpark as we find ourselves.
"Hopefully, we'll be able to give good performances. I thought that against Tottenham, for a long part of the game, we did give a good performance. We've got to go now and give that performance exactly in the next games.
"And hopefully, in getting players like Eze and Olise back, which will give us more of an attacking threat, we can even maybe score a goal or two."
On winter training…
"I like all training weather, basically speaking. Every day that I get onto the training field is a very, very good day.
"There is no bad training day, there is no bad weather for training. There is only no training to do and that's bad!"
On making progress…
"The next step is to make certain that we can retain that level of structure in our team and our aggression and our determination, which I thought was quite evident against Tottenham.
"We've got to take that into all of our next games. It can't just be something we save for when Tottenham Hotspur come. We've got to take that to Burnley, we've got to take it against Everton, we've got to take it to Luton, into West Ham and everybody else for that matter.
"So that's the task. I think the players know that this is a level that not only can we achieve it, this is a level we can be consistent with to achieve it. And as I've said now, with a couple of our more well-known attacking players coming back into the team, I think that will help everybody as well because it will give us the sort of goal threat that Tottenham posed when we played them on Friday some while ago."
On the season so far…
"In this league, basically, all the time you're ahead of the curve, i.e. you've got more points than games played, you're doing okay.
"38 points now will keep us in the league and I'm certain that's what many teams other than ourselves are also thinking, unless of course it's teams that have really got the one ambition which is to be in the European leagues, in which case you need more than that.
"So all the time after a start and you look at the table and you're at least ahead of that one point a game curve, it's not too bad. We were doing extremely well with 12 points from eight games but then we had to go to Newcastle and play Tottenham, so it's knocked us back down again.
"You don't have to be a real football expert to realise that that's what's going to happen unfortunately. Unless you think you've got really the team that can match those teams, then you have to be in their group, which we are."
On Jordan Ayew, who signed a new contract this week…
"He's got better and better. I mean I think he's been one of the club's best signings because we had him for six months on loan and at the end of that we made the loan permanent for a relatively small sum of money, I think it was actually a very small sum of money by today's standards, and he's given five further years of quite incredible service.
"He certainly is one of the most reliable and consistent players that we have. You can always rely upon him to give you 100% both in his attacking play and his defending play and I think, to be honest, as players often do, as they get older and more experienced, they bring further aspects to their game which makes them better still.
"He's had a really good start to the season, Jordan, and if we can keep him going for 38 games we'll be very happy."