Tayo Adaramola and Malcolm Ebiowei were in fine form in the win against AS Monaco and were in good spirits as they spoke to Palace TV.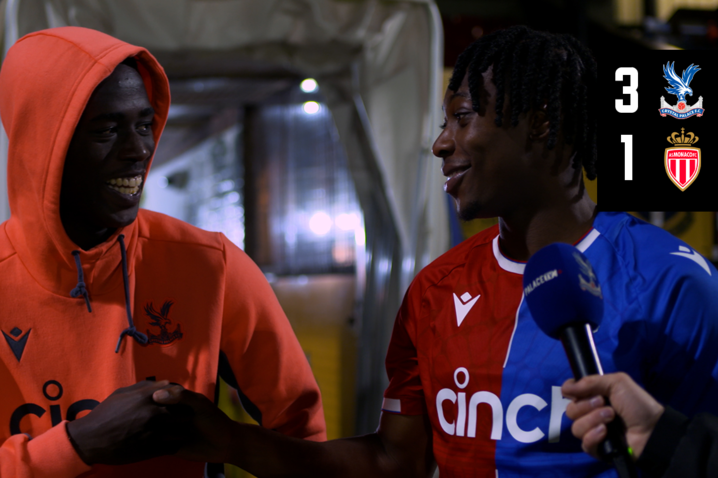 Palace emerged 3-1 winners against the Monégasque side and the pair were both proud of the performance.
"It was a good performance from the boys," said Adaramola. "It was good to get our first win in the competition this year. We went far last year, so we're hoping to do the same this year."
Ebiowei added: "Yeah it was a good game, I showed my ability and just helped the team. Obviously we got far in this last season, so it was really good."
The pair helped Palace on their way to the final of the tournament last season and were involved in many of the games, though this was the first time in 2023/24 that they managed to play out a full match due to injuries.
"It's been a long time since I touched the grass!" joked Adaramola. "But it was good today, getting into the positions that I like to and I was happy to finish the game as I was cramping up like crazy, but it was a good game overall.
"It's tough [being injured], but it's all part of the process and the journey. You just have to keep at it everyday, keep trying to improve. When we can play we just have to show that we're good enough to play and try and push into the first-team. We have to max out and show our ability.
Ebiowei echoed Adarmola's sentiment, saying: "I've just been putting my trust in God and the process really. Injuries are a part of the game, it's a bit upsetting, but when it does happen you just have to keep your emotions high and stay positive to see whenever you get the chance.
"You never know when it will come, there are a lot of injuries right now. Look at Jes [Rak-Sakyi] he came on [against Nottingham Forest] and played amazingly, it can happen to any one of us so just be happy and stay positive."
Finally, the pair were both welcoming of the support they received from the fans, saying: "It's amazing really, [to play a game like this in front of the crowd].
"Look how good the fanbase is, with other clubs' 21s games you might not see the fans coming to watch, so we're really grateful."